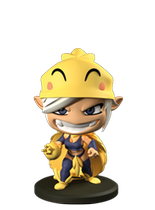 Queen of the Tofus

1 - 3
Dan To Fu
Inflicts
+1
{A}
per
TOFU
adjacent to the target.

Summoning of Tofu (3)
Summons a TOFU on the targeted empty cell.
The more Tofus, the merrier! Since she was a nipper, Jubyl has just loved Tofus. She knows all there is to know about them: the number of feathers they have, the size of their beaks, and to top it all off, she speaks fluent Tofu too! Her dream is to reach her Diamond Jubilee.