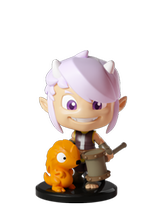 Ira Tayte

1 - 3
Whip
Inflcits
+2
{E}
on the targeted mob.

Summon Prespic (1)
Places a PRESPIC on the targeted empty cell.
Catch a Prespic by the toe Ira Tayte has a gift for annoying his enemies. When he sics his Prespic on their tail, they'll be hollering to be let go! As a result, they have a powerful urge to thump him a good one.